OK let's be honest, poker has that Marmite thing going on. You either lov
e it or can't understand the appeal. Personally I don't mind the odd game around a table with friends, but I have never really been able to fully appreciate the game on a huge scale. With this in mind, reviewing World Championship Poker 2: All In by Oxygen Games has proved to be a rather difficult and confusing problem.
I see little point in going over the rules of poker for this review as anyone who would be a potential purchaser of this game will already be a keen poker player or at least someone who is willing to learn to play. So I will summarise by saying the game features almost every game variation of the poker rules you may care to think of. It features some of the most famous pro-poker players in the world and features up to 16 players at once via Xbox Live.
Now to review this game as I have found it. To begin with the developers Crave Entertainment have gone for a whacky cartoon look to the whole thing. Brightly coloured poster-like menus that are as garish a set of visuals as I have seen in a long time greet you on every page. I don't quite understand the reasoning behind this as I mentioned before the only people likely to buy this game are poker players and I don't think this look would appeal. I may be wrong however! On top of this the menus and in general the overall graphics are hideously low-res and look like a poor xbox game, certainly not something we expect to see on the 360.
The character creation is as expected but for some reason, and this may be true for poker players, there seems to be an inordinate amount of bizarre facial hair! It is also a shame that despite being able to use the Vision camera to play on-line you cannot use it to scan your face for the in game character.
In total there are 19 variations of the poker rules, including Texas Hold'em; 7 Card Stud;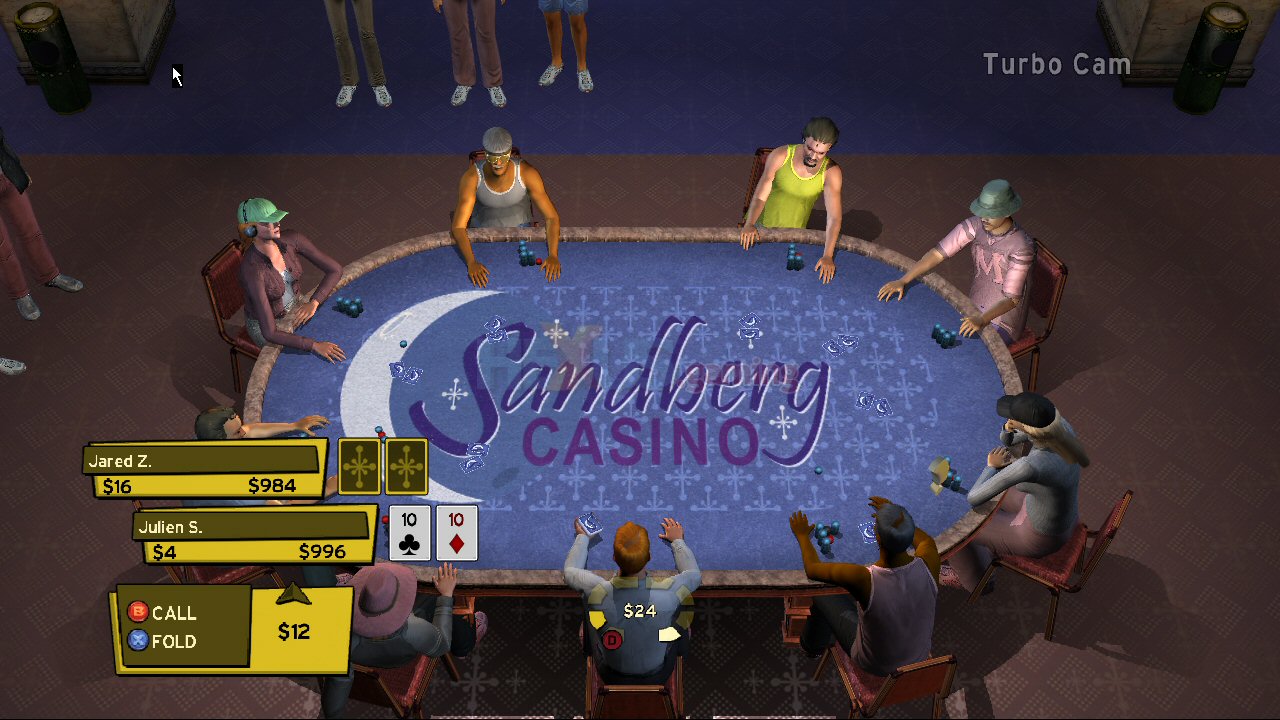 Ohama and 6 Card Draw. There is enough here to keep even the most ardent poker player happy and the in game mechanics work well enough. The game is extremely simple to control and being able to 'Flaunt' when you win a hand is a nice touch, especially when you win by bluffing. Bluffing is done by selecting to bluff and then whether to pretend you have a good or bad hand. At the top of the page a icon moves and following a button press you can randomly choose which bluff your character performs.
All of the characters sit around a table which is mostly seen from a fixed view. Again the graphics and presentation are awful with the players looking like they are moulded from clay and moving like they are stuck in some! The overall last-gen feel of this title screams at you from every part, in fact it feels like a straight port of the PS2 version, which just isn't good enough.
The Career mode is pretty well executed with your character starting out with little money and for you to win your way to fortune and poker glory. Along the way you can use your winnings to upgrade your apartment with new gadgets like Plasma TV's and, rather oddly even a sofa from the Titanic! It could keep you coming back but I doubt it!
WCP2 does have a few saving graces. One is it's on-line features, as if you ask me, playing poker on your own is about as pointless as a waterproof teabag. Up to 16 players can compete at once and even on separate tables at the same tournament. Although really to get anything like the real experience you all will need the Xbox Vision Camera otherwise that poker face you have been practicing will be in vein. Another is the comprehensive tutorials that teach you every aspect of each of the varying poker games. And finally the AI is pretty decent with computer players having tells, bluffs and taunts to keep you off balance.
Truthfully, I do not know how to rate this game, well yes I do it's crap! If you love poker and have the time there is probably a decent poker sim underneath. However the game looks truly awful and even at the budget price of £19.99 I would expect better presentation. These kind of terrible conversions should be steered away from and then hopefully the programmers may learn that we as consumers expect more.
Overall 4/10